Thought I would share my build based on my lessons learned and testing on the road courses:
Engine:
• FRPP Aluminator block #M-6010-A46NA
• Speed Pro NASCAR bearings and ring pack with Moly top rings
• Custom Forged Manley Pistons
• Manley Forged Steel 4340 Connecting Rods with ARP Fasteners
• Kellogg Forged Steel Crankshaft
• Induction Hardened Journals and 8 Bolt Flange
• ATI 15% Dampner Pulley
• 3V Cam Adjuster
• FRPP 39 lbs. Fuel Injectors
• JLT Performance Series 3 Cold Air Intake
• JLT Black Oil Separator
• Shelby Oil Pump O-Ringed with TSS Billet Gears
• Moroso Oil Pan #20548 with Windage Tray #22933
• Ford Racing CNC Ported Cylinder Heads #M-6049/6050-N3VPA
• Custom Grind Comp Cams
• PAC 1233 Valve Springs
• Jesel Race Followers
• Ford Racing Laser Etched Black Valve Covers
• BBK Twin 62mm Throttle Body
• 2008 OEM Intake Manifold with Steeda Billet CMDPs
• Edelbrock High Flow Performance Victor Series Water Pump
Brakes, Suspension and Cooling:
• Wilwood Superlite SL6/SL4 BBK with Wilwood Brake Flexline Kits
• Vogtland 1.2" Sport Springs
• Maximum Motorsports Caster/Camber Plates
• Prothane Bullet Motor Mounts
• Steeda Sport Sway Bars with billet end links
• Koni Yellow Sport Adjustable Front /Rear Struts & Shocks
• Cervini Type III Chin Spoiler Textured Black
• Steeda X5 Ball Joint & Bumpsteer Kit
• Ford Performance Front Hub Kit w/ 3 in. ARP Studs
• BMR Lower Control Arms with poly bushings
• Steeda Adjustable Upper Comp/Street Kit w/ HD Mount
• Agent 47 High Flow Lower Grill and Agent 47 Cooling Kit
• Carbotech Brake Pads XP12 – Front XP10 - Rear
• Fays2 F2S Watts Link
• Griggs Racing Power Steering Cooler
• DeWitts Aluminum Radiator
• Ford Performance SVT Performance Cooling Fan
• Taylor Battery Relocation Kit - NHRA Approved (Trunk)
• APR Performance Carbon Fiber Adjustable Rear Wing GTC-200
• MMR Oil Cooler with Filter Relocation Kit
• Roush 9 Bar Black Billet Grille
• Steeda Rear Chassis X-Brace
• Steeda Strut Tower Brace
• BMR Subframe Connectors
• Moving from a 275/35-18 on 18x9.5s to 305/35-18 square setup on 18x11s
Drivetrain, Exhaust and Safety:
• Ford Racing Gears 3.31 with Axle Exchange Aluminum Driveshaft
• Moser Engineering 31 Spline Forged Steel axles
• Steeda Lightweight Radiator Support
• MGW Shifter 3650 and Roush Billet Shift Knob w/ Grips
• S.O.S. Triple Pillar Pod with Auto Meter Gauges
• Raptor Shift Light (Black with Red LED)
• Ford Racing Rear Differential Cover
• Torsen T2R 8.8" 31 Spline LSD
• JPC Braided Clutch Line Kit
• Exedy Mach 500 Stage 2 Clutch
• '13/'14 GT500 Clutch Master Cylinder
• Front and Rear Tow Hooks (Recovery)
• American Racing 1 5/8" LT Headers with Catted X-pipe
• Bassani Stainless Steel 2.5" Race Exhaust
• Blowfish Shifter Support Bracket
• CHE Engine Torque Limiters
• 4-point Roll Bar
• Sparco Evo 3 Driver and Passenger Seats
• 6-point harnesses - Driver and Passenger
• IO Port Racing Camera Mount
Redline is 7,000 RPMs. I shift at 6,000 RPMs based on the power band. I need to post some current photos and more recent dyno tune results sheet (August 2017).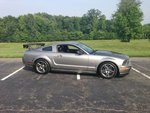 Last edited: