that feeling you get when you finally resolve a frustrating issue like that. Good on your cousin for helping figure it out. That autocross looked like it was fun, though the tire marks in the photos give me the sense it might not have been super competitive. I remember having a good time even when my car wasn't very competitive around the cones though.
Yeah, I placed 15th out of about 30ish drivers both days. 4th out of 5 in CAM T.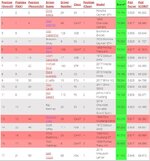 Two of those drivers I don't stand a chance of catching anytime soon. The 1969 Camaro is VERY well set up and Sean is a good driver. The 99 Trans Am driven by Mike Berry (that's my cousin) is also VERY well-sorted and Mike has been driving for a long time. 10 years of AutoX in
that
car, plus dirt track before that. His codriver, Tony, started about the same time I did (March 2020). I am the better driver, but he's in the better car (for now).
I am in a better car in some ways than Brandon Hirby in the 1995 Cobra (I have twice as much power, a theoretically better suspension setup, etc), but he is definitely the better driver and has 315s helping him out. He's going to be going turbo soon, so he will be even harder to catch.
Not using this as an excuse, buuut...I am still very much learning the car. This is my second autocross after going to the Torque Arm setup, a new 427w, and some other big changes. I went from MAYBE 300whp to about 550whp. In the rain on Saturday, it was a little hairy. I actually didn't make but one set of those tire marks, when I spun out. I ran a little wide and hit a small patch of water and dirt and there was just no saving it.
I need to address the rear end. Still has stock TrakLok back there, but it's having trouble putting the power down. With 550whp, 3.73 gears, 275 wide tires, and only one wheel spinning, traction is a major issue, even in a straight line. I have a fellow AutoCrosser supposed to be selling me his old TruTrac, so hopefully that helps a bit on power delivery.