A couple weeks back the team headed to Wembley in London for this truly unique car show
The teams behind EBC Brakes and EBC Brakes Racing in the UK recently headed to Wembley in North West London for the Petrolheadonism Underground car show.
Set in the unique location of two multi-storey car parks in the shadow of the iconic Wembley Stadium, the event boasted countless exotic, classic and performance vehicles, as well as a host of well-known automotive influencers over on the interview stage.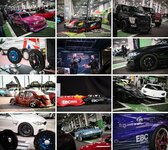 The EBC stand was buzzing throughout the two days, with a range of braking components on display. The stand also featured one of R44 Performance's stunning F80 BMW M3s, complete with EBC Brakes Racing's fully floating two-piece discs on all four corners.
It was great to see more EBC-equipped cars dotted around the event, too, including a Lamborghini Gallardo with EBC Brakes Racing's 380mm floating disc upgrade and event organiser Ciro's 987 Porsche Cayman S 'GT4 Project' adorned with a full EBC vehicle livery.
Thanks to the countless attendees that came over to the stand to chat with our team.
Follow Petrolheadonism at the below links
Instagram
Facebook
YouTube
Remember, as a forum member you can get 10% off your EBC Brakes purchases via the links in our signature below for our USA & UK/EU online retailers (sorry if you're not from those countries!)
Discount code: FORUM10USER