16
29
Exp. Level

Under 3 Years
I am making this as a sort of recap for myself after my first HPDE with my 06 GT. But I would love for anyone to read through and give input and suggestions, especially on the next modifications
On 11/12 I attended the HPDE hosted by SVT Cobra Club and Track Club USA at VIR. The first thing to say is that it was an awesome event, with some awesome folks. I couldn't have asked for a better first time on track in my own car. To preface my experience, I have raced multiple 24hrs of Lemons and Lucky Dog races in my family's 97 crown vic (Wilwood brakes, coilovers, the whole shebang). I have also driven my 3V in multiple autocross events as well as having completed the Ford Racing School in Charlotte. So not my first time on track, just my first time at VIR and in my own mustang. My 3V currently is set up as follows:
Engine:
- JLT series 3 intake
- Shorty headers -> x-pipe -> Magnaflow competition mufflers
- Lito tuned
Suspension:
- Ford K springs
- Worn out and previously raced B302 front struts
- KYB OEM rear struts (unknown age. They were on the car when I bought it in 2019)
- Steeda strut tower brace
- Steeda competition front sway bar
- Stock rear sway bar (will most likely stay that way or get a V6 bar)
Brakes:
- 4 Pot Brembo's w/ SS Lines
- Hawk HP+ pads (front only)
- completely stock rear brakes
Wheels/tires:
- 18x10 square setup
- Goodyear Eagle F1 Supercar tires(220tw) 285/40/18 on all corners
Other:
- MGW Short throw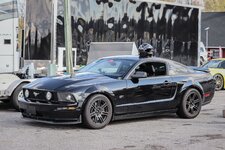 With all of that being said, here is how the day went!
I was in the intermediate run group based on my previous experience, which I was completely comfortable with. I knew going into this day with my 150k mile 3V that I would be spending a lot of time feeling out both the car and the track. My first two morning sessions were exactly that, slowly finding the limits of the tires and the brakes. Brake pads were something that I went back and forth about so. many. times. before I finally made a decision. I was between the Hawk HP+ and the EBC Bluestuff. I ultimately went with the HP+ because of the reviews I had seen in other places and the relatively high coefficient of friction (0.55) that it carried through its entire operating temp. The downside of these pads was that their operating temp range didn't go nearly as high as I would have liked (around 800F I believe), which definitely showed on track. Overall, I was happy with the brakes, jut left me longing a bit more for the carbotechs that we run on the aforementioned Crown Vic. I used Track Addict to track lap times for all of the sessions, but was only able to get GoPro footage during my last two sessions.
Best time for session 1 was a 2:32.8. It was very much an exploratory session of both the track and the capabilities of my lackluster setup. Session 2 improved to a 2:26.1 and would have bene down to 2:25 if not for a Miata and end of session coming together on my last lap around. Session 3 was cut short after 3 laps due to some issue that I still am unaware of, but after being parked in the middle of the S's for 10min, a full course black was displayed and we all treked back into the pit.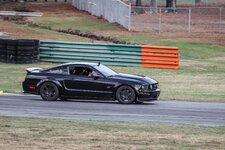 Session 4 was where it all came together. I had extra time and ran for around 45min (to make up for the shorted stint from session 3's accident). After a couple laps to get clear of traffic and get heat in the tires, I started to rack up faster and faster times. I got my 2:25, then 2:23.4, and then my fastest time of 2:22.8. I feel like my tires held out just for this lap, because afterwards they started to feel super greasy. Also, after getting this lap I was content for the day and happy to start cooling down, especially since my tires were no longer giving me the response I wanted. Unfortuantly, my GoPro died before recording my fastest lap, but here was the best one I recorded:
Before going out for this session, I noticed my clutch pedal was "clicking" or "chunking" a little bit when I hit the pedal. I looked under to find the cotter pin had fallen off and the eye hook piece attaching the pedal to the master cylinder was only half on and freely moving around. This is where it was super handy to have assorted zip ties nearby! With the zip tie in the groove instead of the cotter pin, the eye piece stayed in place and felt completely fine. That zip tie is still in place now as I type this a week later lol. Additionally, I noticed a grinding noise as I was going out for my last session. I assumed it was my rear brakes, and my pedal still felt firm and I had no problem stopping so I just went ahead and sent it. Sure enough, it was in fact my right rear brake rotor. Turns out that Advance Auto pads don't like the track too much...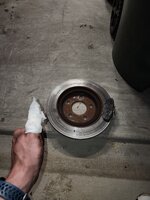 I was able to find a parts store on my way home and went ahead and got a rotor and new pads. Sure enough, the pad had been eaten through due to seized caliper pins and dug into the rotor. I was able to free one pin enough to put it together to get the rest of the way home, but not without making a little blood sacrifice. Pro-tip: don't punch brake caliper brackets. They will win everytime.
After doing a little post-track day inspection, I found that my driver side rear brakes were almost in similar condition. So that caliper bracket will be replaced as well.
My short list of things to be replaced/upgraded are:
- Shocks and struts as #1. I really want to do the Steeda pro comp shocks/struts after reading through Billy Johnson's write up. I don' have the budget to do insane coilovers or anything crazy. And since the Koni yellows recently went to ~$1000 compared to their former price of ~$700ish, the Steeda option looks much better, and Billy Johnson approved. I still drive the car on the road a few times a week and so the double duty shocks and struts are enticing.
- Better tires. I am interested in the Nitto NT01 tires as I have never seen anything bad about them and think they'd be great for the weekend warrior like myself.
- New rear diff. most likely the Eaton Tru-trac, again as recommended by Billy Johnson.
If you read this far, I really appreciate it! Please leave any recommendations and tips, especially on suspension! Thanks!