Made more progress this weekend.
The chassis is now fully, fully stripped. Only the rear quarter windows remain. Car parts currently spread across two houses, two garages, and a storage unit. Ha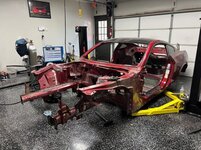 I'm estimating dad and I will have about 100 hours into just the seam welding portion of this project. It's extremely tedious and quite difficult to be consistent as there are so many variables (multiple different thickness of materials, bends that stretch the material, contaminates likes sealer/primer, etc.). But we're getting there. Interior cabin is fully prepped and outside probably about 1/3 prepped. About halfway through welding the inside.