This writeup is for bleeding old fluid/air out of your ABS module from your garage.
Parts you will need:
OHP ELMconfig ELM327 - Wiring harness to connect to FORScan and the OBD
FORScan (you do not need a license)
Open FORScan and make sure the Connection options in Settings match this (if using the OHP ELMconfig ELM327 adapter)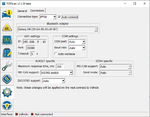 Click on the car icon (Vehicle and interface information) and click "Connect to vehicle" (bottom left button) then follow the instructions that are presented.
Once FORScan connects to the vehicle, click on the wrench icon (Service functions), select "ABS Service Bleed" and click the play button.
A warning will pop up letting you know to use the service manual for this..click OK.
On the next pop up it will tell you to depress the brake pedal and hold, which is a two person job, but I use a Motive Power Pressure Brake Bleeder. So, when you click OK, just open the bleeder screw and allow the fluid to be pushed out but close it just before the percentage bar completes.
Repeat this for each wheel and finish bleeding the lines normally and you should be good to go!
Now just finish bleeding the lines normally and you're good to go.
Last edited: