Chris
Staff member
Moderator
1,411
1,617
Exp. Type

HPDE
Exp. Level

5-10 Years
Went through and did some thread clean up. Let's keep the debates civil, constructive, and most of all, respectful. Grant, you obviously have some strong opinions about AJ and the design of his canards (and other products). Seems like you make a point to rebuke nearly anything and everything he posts and bring constant attention to perceived design flaws in his products. Not sure why or what the history is there, but please do us all a favor and tone down the passive aggressive tone - both towards other members and towards TMO in general. It might even be beneficial to put AJ on your ignore list too.
Anyone can use the Ignore feature. Just hover over the username of the person (or their avatar) and you'll see an Ignore button - click that and you won't have to see posts from that person in the forum anymore: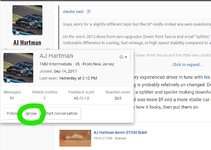 Any issues with this thread cleanup, you guys are welcome to PM me so as to not take this thread off topic again.