14
23
Exp. Type

W2W Racing
Exp. Level

3-5 Years
How deep have you gone with nomex? What would you recommend?
Here is a list of what I bought a little while back. I left the prices to give you an idea.
I got all this from Competition Motorsport. Talking on the phone and/or through email was beneficial, at least with that company. They paid attention to detail, such as the balaclava having a seam in the wrong place (or not).
Two things I can unequivocally recommend: racing shoes / boots and racing gloves
I'm looking to add socks and a suit. maybe nomex underwear as well and would like input from those who gradually went all in.
My immediate plans are sticking with track days but you never know when you might push the button on an open-wheel training
As far "it's only a track day" I took the bottom photo at a track day I was at ....
Started in the engine bay ….
Walero Keep Your Cool Nomex Balaclava. (THIS HAS BEEN OK. I'M NOT SOLD ON IT BUT IT DOES COVER THE NECK)
SKU: 400020-CG-Small/Medium
ColorCool Grey SizeSmall/Medium
1
$79.00
Sparco Race 2 Racing Shoe (THESE HAVE BEEN GREAT!)
SKU: 001272-095-N
Size9.5 ColorBlack
1
$100.00
Alpinestars Tech 1 Race Nomex Gloves (THESE HAVE BEEN OK. I SHOULD HAVE SPENT THE COIN ON SEAMS-OUT GLOVES)
SKU: 3551117-551-L
ColorYellow/Black Glove SizeL
1
$79.95
Alpinestars ZX Nomex Fireproof Shirt (

ITS OK. NOMEX CERTAINLY HAS ITS OWN 'HAND' TO IT

)
SKU: 74754512-92A-X2X
ColorGrey ZX LS Size:XL/2XL
1
$69.95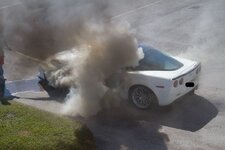 Last edited: