New range of high-performance shims help reduce caliper overheat and the onset of brake fade in track and race conditions​
EBC Brakes Racing – the motorsport arm of EBC Brakes – is pleased to announce the launch of its titanium motorsport brake pad shims for a range of applications.
The reusable perforated shims offer impressive heat insulation between the brake pads and caliper, in turn dropping caliper temperatures up to a massive 90°F, as well as reducing the onset of brake fade and improving the lifespan of piston seals.
Best suited in dealing with the extreme temperatures found in motorsport, EBC Brakes Racing's titanium brake pad shims are available now for a wide range of high-performance car applications.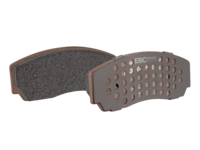 EBC Brakes Racing Titanium Motorsport Brake Pad Shims​
– Laser-cut from titanium sheet and perforated to reduce heat transfer from pad to caliper by around 90°F (32°C).
– Significantly improves on the design of many stock road pads shims which are often rubberised and prone to compressing.
– Designed to benefit all types of brake pads, including race pads and other semi-metallic brake pads.
– Can be re-used at pad change unless damaged.
– Helps reduce the onset of brake fade and extend the life of caliper piston seals.
– Complemented by EBC Brakes Racing's range of high-performance motorsport brake pads, including the RP™ and SR™ ranges.
– Available for a range of applications now.
– A must-have for improving the longevity of any race car's braking system.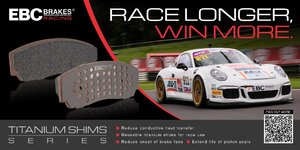 Key Info​
– Available for the front axles of a wide range of sports car applications. Full application list here:
https://ebcbrakes.com/wp-content/uploads/2022/05/EBC-Titanium-Shim-Application-Fitments-2022.pdf
– Find out where to buy yours by clicking this link:
https://ebcbrakes.com/where-to-buy/
or heading to
https://ebcbrakesdirect.com/
(UK/EU) or
https://perfectbrakes.com/
(USA)