This is the Build Thread for
RinerAutomotive SN95 Mustang
.
Background on the car:
I bought the car in 2011 as a 1994 V6 base car with a seized engine. I had plans to eventually wheel 2 wheel race it in camaro mustang challenge (CMC). I figured the V6 cars would be cheaper and a better base to start from since everything would eventually be upgraded. But the first item to change is getting a running 5.0 installed. The k-members are the same so the 5.0 dropped right in.
Starting in the 2012 season I started autocrossing the car along with my dad as a co-driver. Still had V6 suspension, stock interior, but some 03/04 cobra wheels with some Nitto NT-05s. I was able to finish 3rd in my Novice season.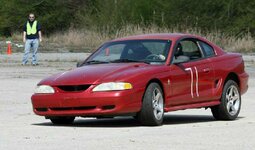 While slowly upgrading the car with new and used parts. Some of the parts that eventually made it's way on are:
97 cobra 8.8 solid axle with an Auburn road race differential and 3.55 gears
Explorer GT-40p heads, intake, and E-cam (240 HP combo)
MM rear lower control arms
MM panhard bar
MM torque arm springs
Poor man's 3 link setup with driver side upper link removed
H&R super race front springs
Cobra brakes front and rear
Full length subframe connectors
I had moved up to C-prepared class. I did a couple years running on street tires but finally moved up to some used Hoosier A6s. So that's what grip feels like...
In 2016 I took a break from autocross. At this point the dreams of road racing had diminished some. I got into some off road stuff with a 1st gen 4runner.
In 2019 I started autocrossing again, but now with my girlfriend as my co-driver. My dad's health was in decline and he wasn't able to race anymore. But teaching my girlfriend how to autocross and seeing her improve has re-invigorated my racing. I'm quite happy just doing autocross events. Maybe some day will try a track day again.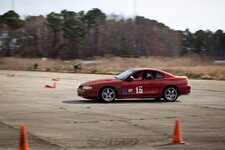 For the 2019 season I added a MM torque arm to the rear along with some fresh Hoosier A7s. Wow...the rear end was planted and the car felt like it was on rails.
I've been building this car for 10 years now and I'm quite happy where it's ended up so far. I still have big plans for the car. But the moral of the story is to get out with what you have, get seat time, and have fun.
Last edited: