Project Update for December 31st, 2019:
After getting caught up on some other build threads I wanted to sneak in
one more forum update
before the end of 2019. We have made a lot of progress on our 2015 GT project #Trigger in the last month, so I figured this would be the one to cover.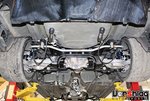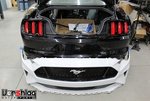 In this post I also want to update everyone reading this build thread with more of our Phase 1 plans for this #LS550 project, as well as briefly cover a number of other shop builds we have going on at Vorshlag for 2020. I have had a lot of you question the
sanity
of an LS swapped S550 chassis Mustang, but if you read the section below, hopefully our logic and plans will make more sense. There's always a plan...
2020 SHOP CAR PLANS + COMPETITIONS
We have a lot going on here in the shop with customer car builds (2 of the 4 current builds shown below), new product development work, expanding our CNC and fabrication parts production capabilities, and strengthening the business. We usually have a number of
project forum build threads
going at any one time, including several shop owned cars built to help promote Vorshlag and expand our product portfolio. Balancing the time and budget among those shop cars and customer cars is tricky and keeps me juggling.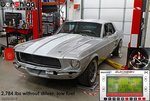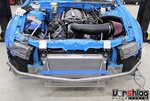 In the past I've normally had one and sometimes two "development mules" that we own and build for competition, product testing, and promotion. For 2020 we're going to double down and have a total of FOUR shop development vehicles (plus another half dozen "potentials" I won't even get into). Here I will briefly list these main four and explain what each car will do for us, then we will jump into our #LS550 plans.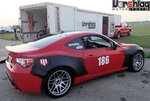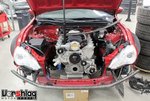 First up is this
2013 Scion FR-S
we bought in August 2016 to continue development of our LS swap kit but also to test new 86 chassis related products we either make or sell. We have spent the last 2.5 years working with this car and have developed a number of parts, refined even more, and tested out many company's products -
our build thread for the 86 chassis
goes back to 2012. The 468" LS7 engine for this car is nearly complete at Horsepower Research (HPR) and we will install that with the intent of running this car in "street car" competitions - Optima series being chief among them. This will be Amy's primary race car and also an occasional street car for her.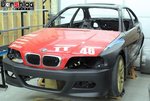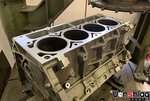 Next up is this one that the entire shop is pitching in time and money to build -
this endurance race car using an E46
coupe chassis, and of course an LS swapped V8. We are almost done with the 383" / 6.3L stroker LS engine for this car, also being built at HPR. This car will be run with a wide tire, good aero, light weight, and reasonable horsepower goal.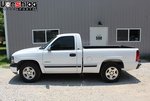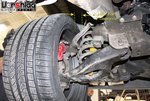 My
2000 Chevy Silverado
is my second "GMT800" shop truck I've owned and I use primarily this a daily driver and parts runner. But in 2019 we stepped up things a bit and removed the tired 4.8L V8 and installed an HPR built 347" 5.7L LS engine, which immediately killed the 4L60e transmission (not a shock!) The upgraded trans and stall converter are complete and about to go in, as is the Belltech 4/6" drop kit. We are using this truck to develop a production 20x11" wheel, which fits under the stock fenders with a 315mm tire at all 4 corners (the test wheel is shown). We might do some "Pro Touring Truck" events in this one, believe it or not, and have tilt-back Sparco racing seats, full stainless headers/exhaust, and other bits already installed. Why have a boring daily driver?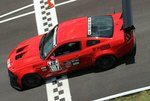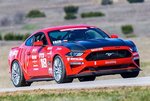 All of that is keeping us plenty busy, but none of those are the "showcase" race car that I want to promote our brand among the other top shops in the country. Both of the red Mustangs above did more to move our company forward than almost any other of the dozen plus shop cars we have built since the earliest days of Vorshlag.
This recent blog post
talks about
our first BMW LS swap
and how that build (with eleven different model chassis LS swapped to date) has helped our company grow. Sadly we only raced this car for 3 seasons (see it below left). The red 2011 Mustang (above left) was run for 5 seasons where it set 16 track records and racked up 75+ wins. The red 2018 GT (above right) was run for 2 seasons and did well enough, but mostly it helped develop and prove a lot of new products. Both of those Mustangs suffered from artificial limitations I put on them - namely keeping them
full weight street cars
with minimal powertrain changes. I'm ending that handicap on the #LS550 project.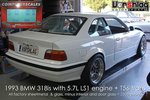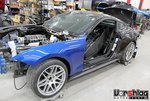 Many of you have asked why we are putting an LS into an S550, but it makes sense when you realize what we are trying to do. Take some chassis that is relatively new / current model, make it much lighter, add a lot of power, and
don't hold back.
That's what made
our first BMW E36 LS swap
work so well - it was relatively new (the E36 was only 2 years out of production when I started that build in my garage), it ended up very light, had easy power with the aluminum LS V8, giant tires, and was easy to drive. At
2508 pounds with a cage
, 315mm Hoosiers, and 490 whp LS it was pretty easy to go fast. We didn't just win events, we set top times of the weekend, and ironically didn't spend a ton of money doing that. That's exactly what we want to do on the #LS550.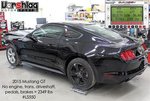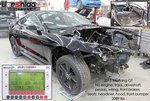 We have the relatively new chassis that effectively cost $1400, which we have taken a LOT of weight out of since - and we will continue to show weights as we go along, even though the car is not yet complete. We also didn't
"take out a Coyote V8"
as many like to keep stating
- we bought a rolling hulk
with no drivetrain and saved it from the crusher. We are installing the latest model S550 bodywork, getting a bunch of weight out, and will put in a LS V8 + big tires, big aero, big brakes, big
everything.
It isn't rocket science, it's just simple math. With a lot less mass to slow down/turn/speed up, we can do more with less. Or do even more with excess. And as I stated in
that blog about LS swaps
, we can simply make more power, more reliably, for less money with the LS engine family. That's just a reality, plus it "packages" very well.
PHASE 1 OUTLINE FOR #LS550 BUILD
As I have mentioned here previously, our black 2015 Mustang GT we are calling #Trigger is being built in two distinct phases. The first phase is to be fully LS swapped and track ready, and something that just about anyone with a reasonable budget should be able to replicate. This first phase of the build will not be a "world killer" nor will it be expensive to complete. Simple, reliable, light, and cost effective are the goals on Phase 1.
We are making everything for this car "reproducible", like the LS swap kit, suspension, wheels, drivetrain, etc. The Phase 1 engine is going to be very modest, using the 383" / 6.3L aluminum LS we are actually building for our endurance BMW E46. We will control it with a cost effective but powerful EFI system and it will be shifted manually with a strong and simple T56 Magnum XL transmission.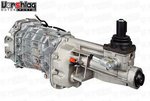 Everything else is coming from proven, leftover parts we used on our 2018 GT. Things like the differential/housing/gearing/cooler, the MCS RR2 coilovers, the wheels/tires, the brakes, the control arms, seats, and roll bar. I want Phase 1 on track SOON and then we can get onto Phase 2 shortly thereafter, which will have serious upgrades in power, grip, and aero.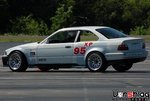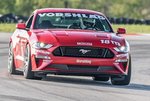 Like the early days of our BMW E36 LS "Alpha" project (above left), Phase 1 version of this #LS550 won't be pretty - just light, simple, and quick. When we have a break long enough to have the chassis spend a few weeks in "paint jail" we will have this car shot in one color, likely the same "Race Red" our 2018 GT wore. What's more important
is getting it on track
so we don't miss the 2020 season. I'm not going to spoil the Phase 2 plans just yet, but many of those things are already underway, and some parts are already standing by. Now let's jump into the reconstruction of this chassis and the Phase 1 upgrades starting in the section below.
continued below