939
712
Exp. Type

HPDE
Exp. Level

5-10 Years
I guess this is the place for build threads . . .
Like the title says, my '08 GT has never managed to pick up a name so I guess its occasional build won't ever get one either. I've never done one of these threads before, anywhere. At least not all in the same place. So this kickoff post probably is going to mostly be back story.
I bought the car built to order back in early 2008, manual transmission (of course), 18" wheel/tire package, and an upgraded interior. This picture was taken the day I drove it home, and yeah that's me.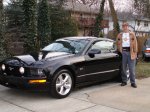 The general direction I was going to take this car in was never in question, having held a mostly corner-carving attitude since about 1966. Looked into, but did not buy, an HP Sprite or two and an MGB. But graduating university, getting married, and moving 600 miles away forced a different choice. Though even that car (a 1964 Dodge) got a front stabilizer bar where there originally was none and a tire upgrade from bias to belted bias (hard to believe now, but even that step made it shockingly obvious what tires meant to it all).
Then I built this, wheels, tires, and suspension first. ↓↓↓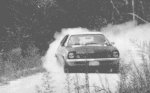 I really didn't know much about what I was doing at the time, but it somehow ended up good enough to beat any street-tired 240Z or 260Z at autocross. Pictured above on the kind of time-speed-distance rally special stage that was probably frowned upon at the time and would get our asses thrown in the clink if we got caught trying it now. I'll just say that it was a timed "free zone" where you're not required to maintain the average speed last listed in the route instructions and leave the rest to your imagination just like we did for the competitors back in the mid-1970's. As event organizers, of course we all ran the section for times, too (but of course, we all knew what was up and where it was going to be). Picture is on the way to 3rd fastest time of the day, organizers and rallye competitors combined.
Next there was this car ↓↓↓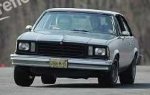 And then this one ↓↓↓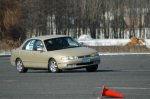 So I guess you could say that my '08 was doomed from the start to becoming a corner-carver rather than a straightline hero or a car show queen. But it came to me like that's what it wanted done to it, with cambers fully outside the factory range at about -1.7°. Destiny?
I'll pick up with what some of the initial plan for the Mustang was in my next post.
Norm
Last edited: