EBC Brakes are quickly switching to its latest Gen 3 silver grey disc rotors. All disc rotor materials and drill or slot patterns will remain the same except the base rotor will be Silver Grey. This new surface coating is a highly corrosion-resistant rust prevention coating and is now on all current production of EBC Brake rotors.
In the past few years, EBC Brakes has enhanced its rotor production facilities, now over 80% of our rotor castings are produced in Europe and 100% of machining for sport rotors is done in either the UK or the USA.
With the same high grade G3000/G3500 cast iron beneath, the silver coating used offers higher resistance to rust and will match OE rotor color if only installing one end.
One major thing to note is that the black coating used on previous rotors and some competitors will always rub off in the pad swept area when brakes are used, so now our rotors looks the same from day one, to the end!
The Reason For The Switch
Silver color leaves the rotor hat or hub silver in appearance after bedding in – more likely to match a vehicle's original rotor colors, so the front and back of the car look similar if you have only changed one axle
The new silver finish has far higher corrosion resistance to the former black etch paint (thermic black versions)
Painting is now done as a part of the rotor production process in the actual casting plant. This facility is more environmentally friendly, and air quality controlled and it also means the rotor castings are coated right after machining and washing leaving no time for surface corrosion to set in which happens minutes after a rotor is washed and left as naked iron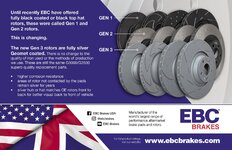 head to this link
to find out more about our Gen3 Rotors, and for detailed information about rotor alignment, geometry issues, distortion and the 'myth' behind warped rotors.