Good morning everyone
Many of you already know this,
But I'd like to officially introduce my new adventure SPEED ITALIA RACING
(
Www.speeditaliaracing.com
)
The idea is simple
Develop products for amateur and pro racers to reduce the overall costs offering at the same time, amazing quality and ease of use.
And I'd like to keep this thread to ask questions ,receive feedback and get new ideas .
We start with
SPLITTER PROTECTION
.
These are skids I have designed and produced to protect your splitter. 2 options in titanium and 1 alluminium
Airfoil titanium "The fish"
Round titanium skids
Round alluminium skids (6061 alluminium)
I personally love the airfoil in the leading edge and the round ones one the sides and/or the the far back of the splitter.
gr 5 titanium (2 of them ,same of medical implants) and cost less than competition ( how you say in english? " for consumables every penny counts right?)
This is of course just the beginning.
In 2 weeks I receive the second product.
A
splitter
fast release system for s550.
Release in seconds. Yes..seconds.
I've been working on this for 2 years. I have CAD every components. And made it mainly in ALLUMINIUM and TITANIUM.
Other things will follow.
And these will includes collaboration with other Market leaders.
With
@Ludachris
we will work to a special "TMO FAMILY" discount
. I received so much help and love during these years from many of you. This is my way to say thank you.
Meanwhile for OCTOBER 10% off with code:
Login to see the hidden content
Ciao
Alessandro
Ps. A special thanks to VORSHLAG to the nice pictures.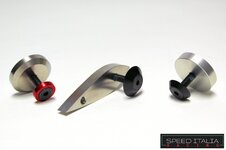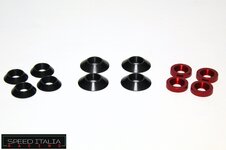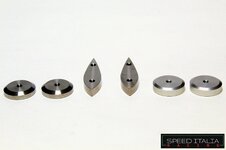 Last edited by a moderator: